STEPHEN Soria came up with a timely steal to seal Giuseppe's title run in the Players 10 division of the 2nd Sun.Star Cup at the Cebu City Sports Center yesterday.
Giuseppe, which beat Don Bosco Technological Center (DBTC) D in the semifinals, was in a scoreless draw with Sacred Heart School-Ateneo de Cebu in the finals when Soria intercepted a careless pass by the Ateneo keeper to the defender. After getting the steal, Soria drove right then sidestepped another defender before banging in the lone goal of the match.
Ateneo pushed for an equalizier but keeper Keenan Cergeux managed to stave off one close attempt, while the other hit the bar.
For his fete, Soria was named the MVP of the division, earning a nice P1,000 ATM savings account from Suns Savings Bank.
It was the second title for Giuseppe yesterday as they also beat Phoneix, 2-0, in the Boys 12 finals with Christopher Ozawa earning the MVP honors. Giuseppe outlasted the University of San Carlos (USC), 3-2, in the semis, while Phoenix ousted DBTC A, 3-2.
The USC ladies team also won its second title in the Girls 17 division yesterday, thanks to the strong showing of Mylene Lozano and an exemplary performance of goalkeeper Lyka Bordina.
USC topped their group with 2 wins and 1 draw against St. Theresa's College and blanked Cebu International School, 1-0, in the quarterfinals. In the semifinals, USC ousted the determined STC A, 1-0, thanks to a goal by Lozano to set up a meeting with Ateneo A, which beat Reunited in the quarterfinals, 2-0, and STC B in the semifinals.
Lozano only needed a few minutes to make her mark as she drilled the ball from right flank for the lone goal, earning the MVP award. The USC ladies were so dominant that Lyka Bordin and their defense didn't allow a single goal in the tournament.
However, STC won't go home empty-handed in the tournament as its Girls 14 team won the title late Saturday after a shootout win over San Roque, 2-0.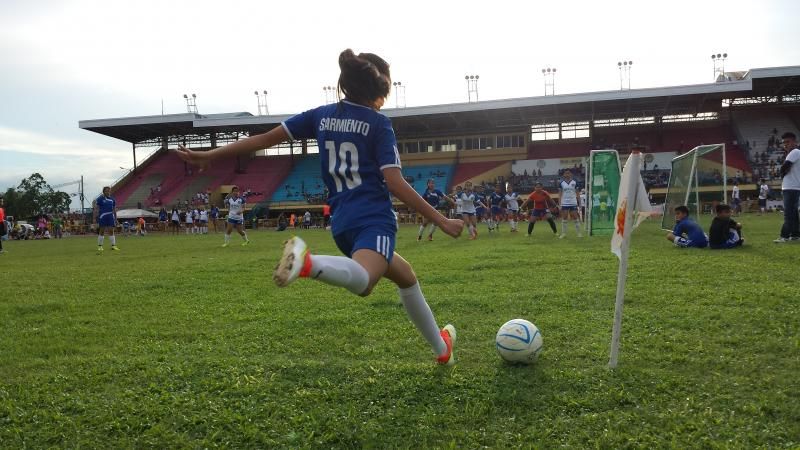 (Photo by Noel S. Villaflor)
Keeper Alex Ceniza stopped two shots from SRFC, earning the MVP award while Kaye Sarmiento and Amber Villaflor drilled their shots.
The team, which also has Karmina Santos, Jahna Poticar, Jan Reese Jumawan, Megan Barrera, Angela Aninon, Carina Isabel Curvo and coach Jinggoy Roa, went undefeated in the Group Stage and blanked Ateneo, 3-0, in the crossover semifinals.