LAST Thursday, I spent about two hours trying to convince myself to take a 20-second zipline ride, then I saw crazy Phil Younghusband take a 40-second ride, upside down, while his mom screamed PHILLLL!!!! PHILLL!!!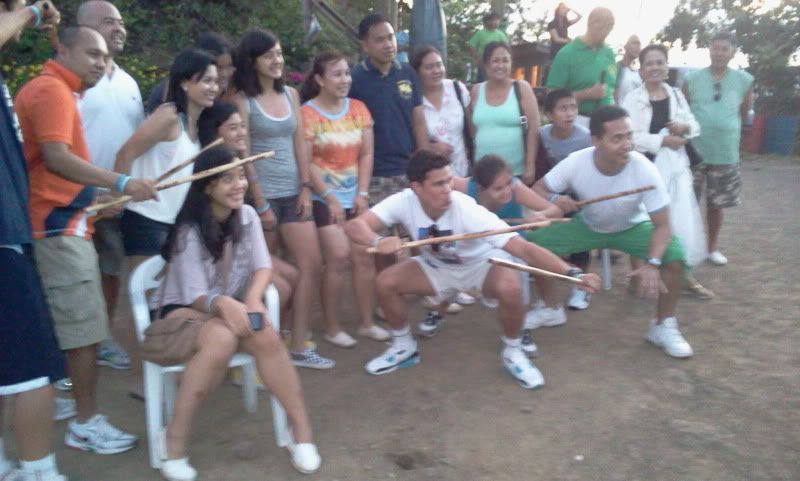 Ever since the 12 Pairs Zipline—OK, it's the Doce Pares Zipline but I always call anything Doce Pares related, 12 pairs—opened about two years ago, I've gotten a lot of invites from the owners to try their zipline.
But I always decline and make a lot of excuses. You see, I dread heights, and whenever I get to the third floor of a mall, I stay away from the railings since funny things get into my head.
Last Thursday, I finally got to be at the Zipline, despite turning down their latest invitation on Wednesday.
I spent the first two hours watching kids who were probably in their diapers, zooming the zipline with nary a problem.
"This should be easy," I told myself in the first hour of waiting. When I finally decided to try it, I had to spend an extra hour fidgeting, taking three trips to the CR and taking quite a few puffs.
When I finally took the ride, I had a funny panic attack in the first few seconds when it seemed I was falling before admonishing myself "were you expecting to zip-line upwards?"
It was fun, though, and very thrilling. King Cortel, who seemed he could mix a drink with the ease that he was zip-lining, promised I'd have shaking legs in my first try and that's what I got.
A fair warning, though. Getting over your first zip-line ride may lead to a certain rush that'd you'd be like that certain drunk who's game for anything.
Which was what happened to me when I found myself wire-walking a few minutes later.
King said it was easy and I thought walking on a tight wire with only a rope above your head to help keep you balanced and a safety harness to stop you from falling off a cliff seemed fun.
My brain went to overdrive about midway through. I think I even considered writing a Last Will on my shirt with one hand, while clinging to the rope for dear life with the other.
But I managed to cross and no I didn't overcome my phobia. Since my little stunt got me a sparse crowd, the fear of getting embarrassed was nowhere near the fear of heights, and I crossed.
They also have the jungle swing, which is really just a nice way of calling getting-thrown-off-a-cliff-with-only-a-harness-on-while-screaming-for-your-life, but I wisely declined.
A few minutes later the Younghusbands arrived and crazy Phil took over the show. James gamely waited to let the rest try the line first, while Phil zoomed ahead.
And he did it upside down, and his mom, who was preparing to take a shot of her son forgot to do so and just screamed, "PHIIIILLLLLLLLLLLL, PHIIIIIIIILLLLLLL!" when the striker did that. Phil did it in the 400-meter line and again in the two 200-meter trips back. For a while I half-expected his mom to grab an arnis stick and whack her son's behind for being naughty.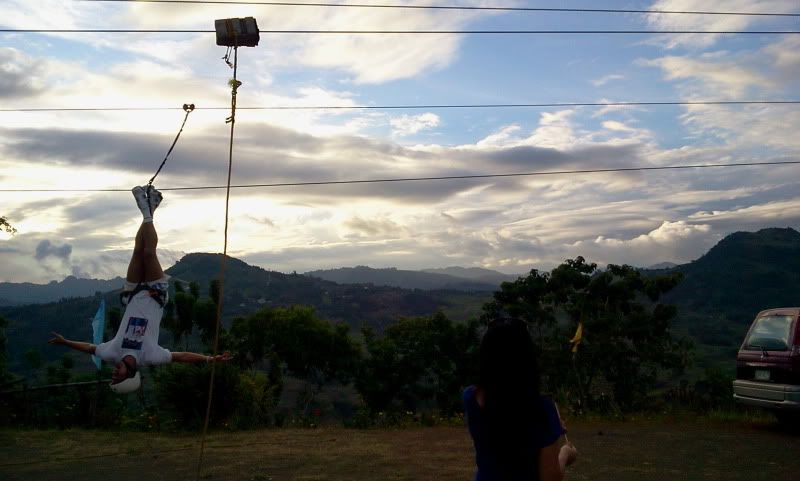 When I posted a comment on Facebook that Dan Palami should try it, the manager who was crazy enough to support the team when no one else wanted to said, "That is almost bordering on insanity."
The brothers were also treated to masterful demos by Master Val Pableo and other arnis masters. And Spanish arnis students Dr. Licesio Blanco and Monica Lopez (She's a Barca fan and he's a Madridista), who were also at the Zipline, had the time of their life recording the demo.
Afterwards, the brothers got a pair of arnis sticks from Master Diony Canete and they gamely had a quick duel before James ran away from Phil's attack. But he circled back to whack an unsuspecting Phil. (Watch video
here
)
The two obviously had fun and it got me to thinking, if the Azkals' Cebu camp is for team-building, perhaps they could spend a few hours at the 12 Pairs Zipline?
They could even raise funds because I know a lot of folks would pay P500 to see Sir Dan Palami and coach Michael Weiss take that 400-meter plunge, upside down. Hmmmm.