Azkal keeper
This story by Cheska D. Geli came out in the Feb. 28 edition of
Sun.Star Cebu
AS PHILIPPINE football is enjoying unprecedented popularity, one young Cebuano keeper, who once spent a year away from the sport, is having the time of his life fulfilling a life-long dream to play with the Azkals.
Pascual, 20, recently did a three-week training stint for the Azkals before spending a few days in Cebu. Sun.Star Cebu caught up with him before he was set to leave for yet another grueling training camp.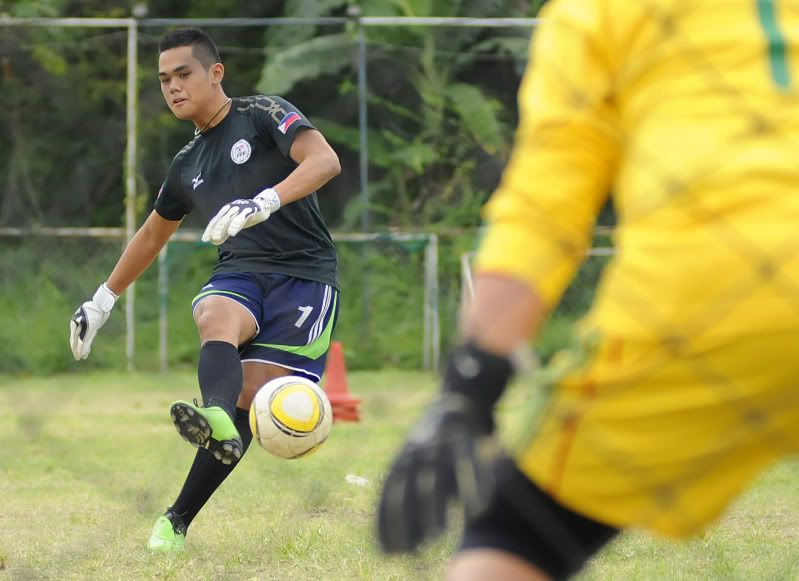 How did you start in the sport?
I started playing football because it was the only club available in Springdale and we were all excited to join a club so we joined the football club.
Did you start as goalkeeper?
First, I was a striker. I was too tall for my age and our coach (Mario Ceniza) tried to train me as a goal keeper. After that I liked being goal keeper.
What is it in being a goal keeper that makes it different from other positions?
Well, the keeper is the last man of defense. They have to trust you regarding the goals. You're the last guy to save the goals so it's tough.
Is it boring?
At first, boring kay I was used to run after the ball but then when I was playing goalkeeper, murag I got used to it na.
How do your parents support you?
They have been very supportive since I was in Grade 1 and in tournaments outside Cebu they would always come with me and support.
Was there a time when your parents reprimanded you because of football?
Actually not so much because education and football are well-balanced. So regarding my sport, they were so supportive. Sometimes when my grades were low, my parents or my mom would say, 'Don't practice first because you have a test tomorrow and you have to make up for it.'
How do you deal with exams and playing in tournaments?
I had a tutor before until third year high school because I went home late na because our trainings were in the evening, so the tutor would wait for me in the house to make up for my studies.
What was your first international tournament?
The Asian Football Confederation Under 19 Championships in China.
How did you make the team?
Actually I had a teammate before in the Palaro and he's now playing with De La Salle University in Manila. He was the one who recommended the coach to come see me for the Under-19.
How was the experience?
It was a very good experience. It was really cold and it was my first time playing internationally for the Philippines so I was really very proud.
What achievement did you get after the international tournament?
I was named as the best goal keeper in the under 19 division of the Philippines. It's a good achievement. I didn't expect, it as usual.
Were there any offers that you turned down before trying out for the Azkals?
I turned down two offers. First was the Interport cup in Taiwan and the Suzuki Cup.
What were the reasons?
Because of school and varsity. During the Suzuki Cup, the Cesafi (Cebu Schools Athletic Foundation Inc) tournament was ongoing so they (school) didn't allow me to fly to Manila. I really wanted to but then I also had ties with University of San Carlos for the scholarship so I have to play for them in the Cesafi.
Before you tried out for the Azkals, you and your father talked about certain issues?
Yeah, we both talked but then when there was a tryout my parents were all-out support na jud. I had to go there pero ako, the midterms week was the next week so I have to think of my studies and education also. But then later on, I thought na murag it's going to be worth it because I turned (them) down twice na, maybe it's my time to show them na I'm interested again.
In taking that gamble, what was the certain thing that you were holding on to?
Knowing that I have the support of everyone, even the school San Carlos was supporting me, the coach and my family. So it was like no backing out na so it's okay.
When you tried out in Manila, did you expect anything?
No, I never expected anything. I just went there and wanted to tell them I'm interested again I'm available…I was very excited to play with the national team and train with them. It was like a dream come true playing for the Azkals. To just practice and try out with them is big. I have to step up my game and I told myself I have little room for error.
What happened on Day 1 of the trials
There was 50 of us and we were separated into groups and then after that, we had a game. We played against each other and after that game, were we trimmed down to 13.
How is the training of a goal keeper different from that of the other players?
It's more bugbog. They have endurance but aside from that, we also go diving and all those additional activities so it's really tough gyud.
How did you physically and emotionally respond to the trainings?
Before I tried out, I was really preparing for it so I went to the gym.
I started training and running so at least when I was training with them na, I didn't really hurt that much because I also trained with the RP Under 19 and it was pretty much the same training I expected.
How did you feel that even during tryout sessions in University of Makati, you already had some fans?
It was very new to me. Maybe because I'm part of the Azkal, training with the Azkal, maybe people know you already. On the third day pa lang, there were like people taking pictures and asking for autographs.
It's something really new. Parang, "Aw, shucks, amazing. Wow! Ingon ani na diay ni?" I was happy at the same time.
When you were in Manila for the tryouts, how did your family support you?
Every day they kept on calling asking me and asking me how the tryouts and the practice went. They were really supportive.
In your first game, you played in the second half and conceded three goals.
Actually it was a good feeling to play in the second half. It was already an accomplishment. But then there were those three goals. It was okay for me because the team that time didn't really gel well because we were practicing differently and that was the first time we played. But after that, the team was depressed but the coaching staff pushed us up again and said it's okay.
How do the Fil-foreigners and locals relate with each other?
The Fil-foreigners are very friendly but then there are groups formed within the team like the Fil-foreigners, the Army, the Air Force, the Ilonggos, the Bisaya, pero in general they are all friendly.
Is language a barrier?
Kinda. Because of the Fil-Foreigners who communicate in English. So the communication in the game has to be different but I think the team got used to it because we keep on training together so murag na-anad na ba sa communication.
What is the advantage of having Fil-foreigners in the team?
Maybe it's the experience and the playing style that these players possess. They give advice to us because they are more experienced than us. Even if the skills are almost the same, the difference comes in the level of experience.
What's your plan now?
I'll be in Manila and will be pursue my football dream there. I signed up with a UFL team for one season, the Global Smartmatic FC.
Are you ready for that life in Manila?
I'm ready. I told myself since I was in Bacolod, 'this experience is good so I should continue it.' Philippine Football is improving and it's nice to be part of it.
How did the whole experience change you?
It changed me a lot. It taught me discipline and then it taught me a lot of hardwork. It also taught me that I should be happy with life like the support that I get from everyone in Cebu. And also to appreciate every single moment spent with family. I will soon realize the importance of family when I am living alone in Manila. When I will already be alone there, I know I will realize that my family really loves and supports me. Every moment counts so I have to be good. And all this is for my parents.
If not football, what sport would you be doing now?
Maybe swimming and basketball. I was a swimmer before. I even played for the Milo Olympics and all those. And maybe I'll also be a basketball player because I also like that sport.