After victories up north, the Cebu International School dragons are inching their way down south, winning the Del Monte Football Cup against a familiar foe last April 12 in Bukidnon.
Coached by Eleazer Toledo, the boys defeated Don Bosco Technological Center, 3-2, in the final to take the Boys 12 title.
Here's the report from Sun.Star
"CIS started out strong with a strike from neophyte Jae Won Park in the third minute of regulation and followed by another goal four minutes after.
Cameron Booth added another goal with a header from a corner kick to give CIS a 3-0 advantage over DBTC at the end of the first half.
What looked like a lopsided game turned into a competitive match as the DBTC team refused to give up and scored a goal and a costly mistake by Emilio Cunningham, which was counted as an own goal, making it a one-point ballgame.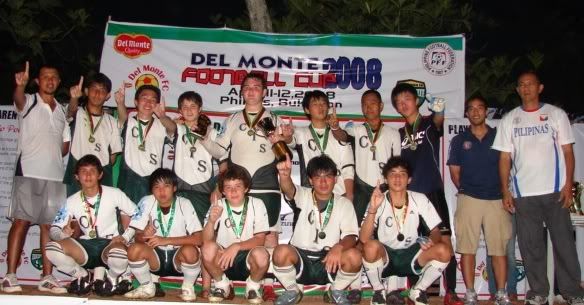 But with the stifling defense of the Dragons, DBTC failed to tie the match, giving the championship victory to CIS.
But before that, in the semifinals, CIS emerged from a 3-0 deficit to tie the game and force a penalty shootout, which they won, 4-2, against A-Kids team. Goalkeeper Keita Samada deflected two penalty kicks from A-Kids.
Emilio Sarmiento, Cunningham and the two Booth's scored their penalty kicks for the Dragons.
CIS breezed through the eliminations with 5 wins and 1 draw.
The Dragons were at the top of bracket C and defeated Ateneo Davao Wite 2-0, Tiger FC of Bukidnon 3-1, A-kids Team B of Ginoog City 5-0, Malaybalay FC 2-0, Xavier University of Cagayan De Oro 2-1 and had a 1-1 draw with Liceo de Cagayan.
The tournament had 21 teams competing in the high school category. "