TEAM Cebu City handed Hiroshi FC A a humbling 5-2 defeat in the second round of the Denker Cebu Football League in Lapu-Lapu City last Sunday.
It was a big win for TCC, manned mostly by high school students, against the senior Hiroshi.
Milo Most Outstanding Athlete for secondary Christian Delan had one goa for TCC, which also got goals from John Ray Sulib, Harold Dage, Jundy Romero and Rene Sanchez.
Hiroshi got their two goals from Ferdinand Anoba and Danilo Juezan.
FCIC Lapu-Lapu also got humbled by Chanking, 4-2, with goals from Joevive Sacan, Emmnanuel Kho, Lloyd Orejo and Herbert Guiterrez.
Jesus Juamo-as and Benjie Sagarino scored for FCIC Lapu-Lapu.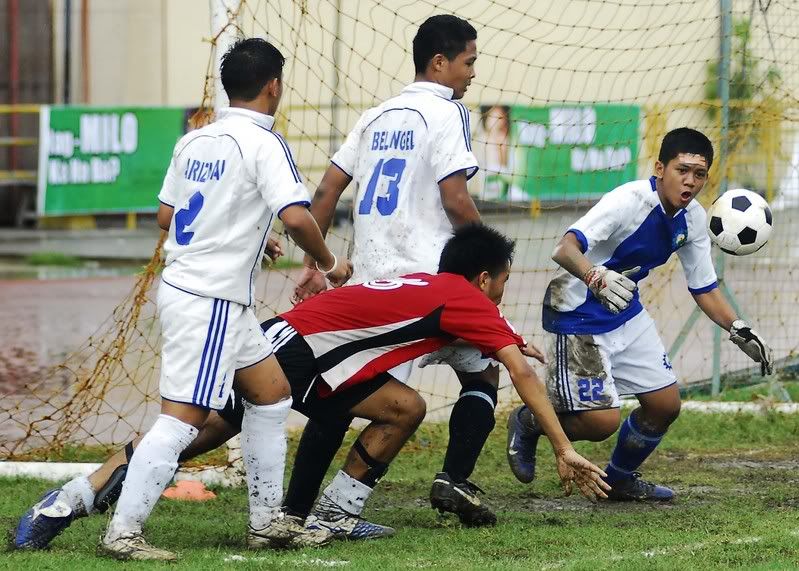 (
Christian Delan (in red) scored one goal in TCC's 5-2 win over Hiroshi)
On the other hand, Hiroshi B bucked a one-goal deficit to beat Xantos, 3-1. Kevin Oscar gave Santos the lead before Nestor Aresgado, Josaphat Sacil and Chowko Quezon scored for Hiroshi's come-from-behind win.
Queen City B also tallied the most lopsided win of the day, 8-1, against San Carlos Seminary.
Adrian Caballero and Mitsuo Tsunakiri each completed a hat trick, while Hayato Ayabe and Ronald Mahilum had one each for their easy win. Ray Alvin Butayo scored the lone goal for San Carlos Seminary.
Sister team Queen City B made it two-for-two after a 4-1 win over Metropolitan on Peter Bordador's two goals. Marlon Sparing and Andy Sporn also had one goal, while Rene Inoc had one for Metropolitan.
FCIC also scored a close 3-2 win over Cebu State College of Science and Technology.
Marvin Clotario scored his fourth goal of the season for FCIC, which also had goals from Dominik Rebolios and John Phil Opigal. CSCSAT had Ricarte Heyrosa and Lee Se Nok as scorers.
The win puts FCIC on top with six points, while Hiroshi B is second also with six points but a goal behind.
This Sunday it will be Hiroshi B vs. Team Cebu City; CSCSAT vs. FCIC Lapu-Lapu; Hiroshi A vs. San Roque Royal United; San Carlos Seminary vs. Queen City B; Metropolitan vs. Changking; Xantos FC vs. Queen City United A.