USC ladies: Powerhouse no more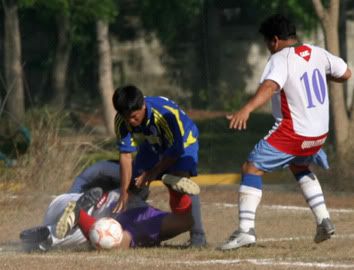 RED CARD
: Veterans get down and dirty during St Vincent - Hiroshi's 3-2 win over QC in the 38 above division last May 13 at the Sacred Heart School Jesuit field. The QC keeper was later ejected in the game.
Sun*Star photo by Allan Cuizon
BARELY two months ago, the University of San Carlos ladies were hailed the best in the lot after ruling the Aboitiz Women's Open. Now they can't nail even a single win.
Mulbachs FC handed the reigning Cebu champion a thorough 5-0 thumping in the Cebu Inter Club Invitational Tournament at the USC Technological Center.
Meanwhile, the semifinals of the Men's Open will be at USC-TC, while the ladies will be at the Sacred Heart School Jesuit field.
"It's tough, we're back to square one," USC coach Dexter Arrojado told Sun.Star Cebu at the sidelines, minutes after Cathy Ramos made it 4-0 in the 47th minute. "We have to rebuild and train new players."
In the first half, Keith Shelly Canton scored in the 21st, before Halei Marmol and Leonor Satorre scored in the 24th and 29th for a 3-0 lead at the half.
"We lost everybody. This team only had less than a month to prepare for the tournament," Arrojado said.
"Everybody" Arrojado referred to mentioned went to QCU, a team known then as USC Alumni whom they beat 2-1 in the Aboitiz finals just last March 19.
The USC team earlier lost to Cagayan Misamis Oriental Football Association, 2-0; Ormoc, 1-0; and Queen City United, 5-0.
Among them were Rhodora Toledo, Jan Salac, Ivy Bongcasan, and Marlou Solon who scored all but one of QCU's 14 goals in their four wins in the tournament.
QCU leads the cast of semifinalists and will face Ormoc in the first game at 1:30, before Mulbachs takes on CMOFA in the next encounter.
On the other hand, Men's top seed Hiroshi FC will face Ormoc, a team they beat 7-0 earlier, at 1:30 in USC TC while Queen City United takes on the Don Bosco Alumni FC which has been beefed up with the University of San Jose Recoletos alumni.
The week long tourney, organized by the Cebu Amateur Football Club, winds up tomorrow with the finals in the ladies, men's and 38 above division at USC-TC.