QCU, Hiroshi claim titles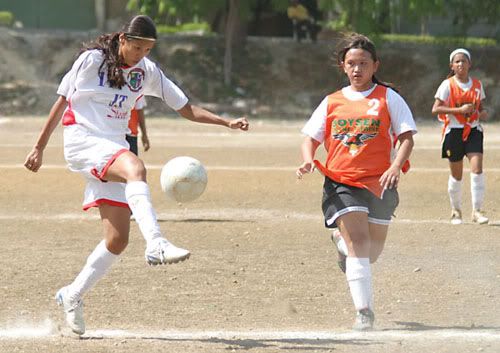 "MOMMY" STRIKE
: Queen City United striker Rhodora "Mommy" Toledo pulls a shot in thier finals match against CMOFA last May 15. After a 1-1 draw, QCU keeper Iris Meca stopped the final kicker in the shootout for their 6-5 win.
Sun.Star Photo by Arni Aclao

IRIS Meca and Junard Aguilar supplied the heroics yesterday as Queen City United and Hiroshi Football Club copped the Cebu Inter Club Invitational Tournament's Men and Women's Open titles, respectively, in contrasting fashions at the University of San Carlos-Technological Center.
QCU had to go through extra time and a shootout before beating Cagayan de Oro Misamis Oriental Football Association (Cmofa), 6-5, while Hiroshi overcame an endgame onslaught by Don Bosco Alumni Football Club (DBAFC), 2-1.
It was a double victory for Hiroshi as its 38-Above squad also took the title with a gritty 1-0 win over QCU earlier, courtesy of Eddie Buot's goal.
"They left Eddie alone because he wouldn't run, but they forgot that he could kick well so he left footed the ball in," teammate Bebe Acre said.
A nifty shot by Marlou Solon barely squeezed past by Cmofa keeper Maria Cueto for an early QCU lead at the fifth minute.
However, the visitors caught up at the 62nd to level the score.
After a scoreless extension, the match went to a shootout, where the usually calm Meca provided the heroics. After the first four kickers made it a 5-all deadlock, Meca made sure there would be no extension as she stopped Kate Francisco, paving the way for Carmel Colina's winning shot for the P20,000 top prize.
On the other hand, the Men's open final saw Hiroshi on the defensive end early before they were able to regroup.
Rolando Verdida connected with a streaking Aguilar at the 30th for a 1-0 lead.
Aguilar, whose acceleration with the ball gave a lot of headaches to the defense, came close later but his shot missed.
In the second half, Marion Cubelo stripped defender Kim Relucio inside the penalty but he also bungled his shot.
Dave Intong finally found his mark at the 70th after banging in a cross to level the match.
Five minutes later, after receiving a pass inside the box, Aguilar, instead of opting for a power shot, looped the ball past the keeper to score and spark another Hiroshi celebration.
Don Bosco kept on pushing in the end game behind Glen Ramos' passing but the Hiroshi defense kept up to seal the win and the P30,000 top prize.